The Ford Mustang Shelby GT500, a legendary nameplate in the world of American muscle cars, represents the pinnacle of performance and style. Since its inception in 1967, the GT500 has been synonymous with raw power, precision engineering, and a roar that sends shivers down the spine of enthusiasts.
In this article, we delve into the rich history and evolution of the Ford Mustang Shelby GT500, exploring its iconic features, heart-pounding performance, and its enduring legacy in the automotive world.
A Legacy of Excellence
The legacy of the Ford Mustang Shelby GT500 spans more than five decades, tracing its roots back to the late 1960s. Born from the partnership between automotive visionary Carroll Shelby and Ford's engineering mastery, the GT500 became an instant classic, etching its name in the annals of American muscle car history.
With each subsequent generation, this legacy has evolved and flourished, consistently redefining the limits of high-performance muscle cars. Today, the GT500 stands as a testament to enduring excellence, embodying the spirit of relentless innovation and a commitment to delivering heart-pounding driving experiences.
Raw Power Under the Hood
Nestled beneath the sleek exterior of the GT500 is a formidable V8 engine that unleashes awe-inspiring levels of horsepower and torque. This powerhouse engine has been a hallmark of the GT500 since its inception in 1967. Whether you're driving a classic '67 model or a modern iteration, the GT500's engine remains a masterpiece of American muscle engineering.
Its relentless power delivery translates into blistering acceleration, creating an adrenaline-pumping driving experience that leaves an indelible mark on anyone fortunate enough to sit behind the wheel.
Precision Handling and Aerodynamics
While the GT500 is celebrated for its raw power, it's equally renowned for its exceptional handling prowess. Thanks to meticulously engineered suspension systems and aerodynamic enhancements, the GT500 can confidently carve through corners with surgical precision.
This remarkable balance between power and control results in a well-rounded driving experience that transcends the confines of straight-line speed. Whether navigating tight turns on a winding road or tearing up the track, the GT500's handling capabilities deliver a level of excitement and confidence that sets it apart in the world of high-performance automobiles.
Modern Technology and Comfort
In the modern era, the GT500 has not merely kept pace with technological advancements; it has embraced them wholeheartedly. Featuring state-of-the-art infotainment systems, advanced driver-assistance technologies, and luxurious interior amenities, today's GT500 offers a harmonious fusion of performance and convenience.
Drivers and passengers alike can enjoy a comfortable and connected journey without sacrificing the heart-racing thrills that are synonymous with the GT500 name. This marriage of cutting-edge tech and creature comforts ensures that the GT500 remains a dynamic and practical choice for enthusiasts who demand both power and refinement.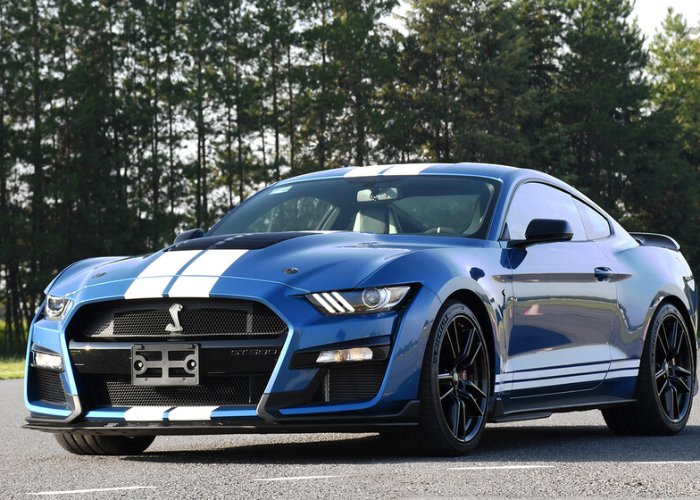 The GT500 in Pop Culture
Beyond its formidable performance on the road and track, the Ford Mustang Shelby GT500 has transcended the automotive world to become an enduring icon in popular culture. Its appearances in countless movies, television shows, and even video games have cemented its status as an indelible symbol of American muscle car prestige.
Whether roaring across the silver screen or serving as a digital dream car in gaming, the GT500's presence continues to captivate audiences worldwide. Its cultural significance goes far beyond its horsepower figures, embodying the spirit of American automotive legend that resonates with enthusiasts and non-enthusiasts alike.
FREQUENTLY ASKED QUESTIONS
What is the history behind the Ford Mustang Shelby GT500?
The Ford Mustang Shelby GT500 has a storied history that began in 1967 when Carroll Shelby collaborated with Ford to create this iconic muscle car. Since then, it has been a symbol of American high-performance automotive excellence.
What makes the GT500's engine special?
The GT500 is renowned for its powerful V8 engine. In modern iterations, this engine produces astonishing levels of horsepower and torque, delivering breathtaking acceleration and an unforgettable driving experience.
How does the GT500 handle corners and curves?
The GT500 is not just about straight-line speed; it also excels in handling. Thanks to advanced suspension systems and aerodynamic enhancements, it offers precision handling and can navigate corners with confidence and control.
Does the modern GT500 come equipped with advanced technology and comfort features?
Yes, the modern GT500 embraces modern technology and comfort. It includes features like advanced infotainment systems, driver-assistance technologies, and luxurious interiors, providing a blend of performance and convenience.
Has the GT500 left a mark in pop culture?
Absolutely! The Ford Mustang Shelby GT500 has appeared in numerous movies, TV shows, and video games, solidifying its status as an iconic symbol in popular culture beyond the realm of automotive enthusiasts.
Conclusion
The Ford Mustang Shelby GT500 is more than just a car; it's a symbol of American automotive excellence. Its rich history, unmatched power, precision engineering, and enduring legacy continue to captivate enthusiasts around the globe.
Whether you're a lifelong fan or a newcomer to the world of muscle cars, the GT500's ability to combine raw power with modern technology and comfort ensures its place in the pantheon of automotive legends. As it continues to evolve and push the boundaries of performance, one thing remains certain: the GT500 will forever be an emblem of American muscle car supremacy.